The "What is next?" training course kicked off in Esch-sur-Alzette on June 20th!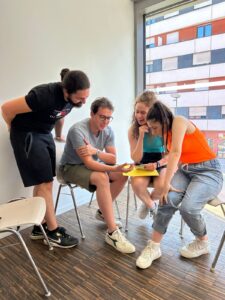 The TC began with team building activities and a treasure hunt. During 8 days the participants focused on career orientation and self-awareness, exploring their interests and values. They learned about the job market in Luxembourg and other countries, discussed networking and soft skills, and delved into the opportunities offered by Erasmus+ and civic society.
The importance of self-awareness in career exploration was emphasized, and participants developed action plans based on personal SWOT analysis. They also engaged in intercultural exchange and enjoyed an evening showcasing different cultures. The course concluded with discussions on project implementation, mentoring and coaching, and a memorable auction of small mementos. Participants expressed their feelings and thoughts about the TC as well as exchanged Youthpasses as a token of their experience.
The project is organized by the Formation et Sensibilisation Luxembourg and financed by the Erasmus+ Programme of the European Union, Luxembourgish National Agency – Anefore.